Your Local Tree Surgeon in Ross on Wye
As your trusted local tree surgeon in Ross on Wye, we take pride in serving our community with expertise and care. With a deep understanding of the region's unique tree care needs, we are dedicated to preserving the natural beauty and safety of your outdoor spaces. From precise pruning to tree removal, we are your go-to professionals for all your arboricultural requirements.
Our Ross on Wye Tree Services: A Complete Range
Explore our comprehensive range of Ross on Wye tree services, tailored to meet your every arboricultural need. Whether it's expert tree pruning, efficient tree removal, stump grinding, or proactive tree health assessments, we offer a full spectrum of tree care solutions. Our dedicated team is committed to enhancing the beauty and well-being of your outdoor spaces, ensuring your trees thrive and your property remains safe and inviting. Find out more: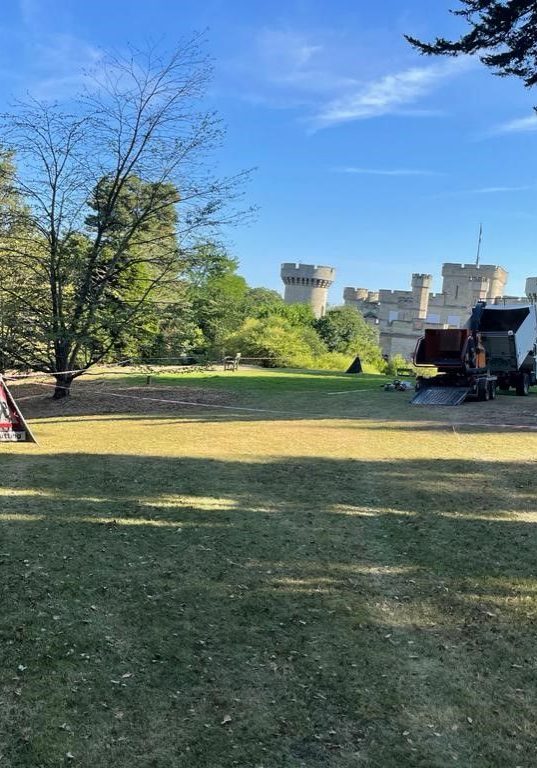 Commercial Tree Services in Ross on Wye
Chapel Tree Services offers a comprehensive package for commercial tree services in Ross on Wye, including assessments, tendering, RAMS (Risk Assessments and Method Statements), and insurance details. Drawing from our 20 years of arboricultural expertise, we provide detailed quotations and work plans that encompass everything from securing planning permissions and felling licences to managing traffic logistics, road closures, specialised equipment, and power shutdowns — all seamlessly integrated into your pricing.
During initial site visits, we also conduct assessments for protected species, including nesting birds (protected during March 1st to August 31st), European Protected Species (EPS) like dormice and bats, and badgers (protected by the 1992 Protection of Badgers Act). If protected species are detected, we can arrange for an ecologist to assess the site and collaborate on a comprehensive plan. Chapel Tree Services is your trusted partner for commercial tree services in Ross on Wye, offering expertise and attention to detail that ensures a successful project from start to finish.
Domestic Tree Services in Ross on Wye
As well as offering commercial tree services, Chapel Tree Services specialises in delivering tailored residential tree services in the Ross on Wye area, designed exclusively for homeowners. Our dedicated team offers a range of expert solutions, including precise pruning to nurture tree health, safe removal of damaged or diseased trees, and strategic tree size reduction to improve light exposure and enhance scenic views in your outdoor space.
We also excel at revitalising gardens by expertly trimming hedges and shrubs, expanding your garden's usable area, and enhancing its overall aesthetics. Our streamlined permitting process ensures compliance, whether your tree resides in a conservation area or falls under a Tree Preservation Order. Contact Chapel Tree Services today to transform your home's outdoor environment into a haven of beauty and tranquillity with our domestic tree services in Ross on Wye.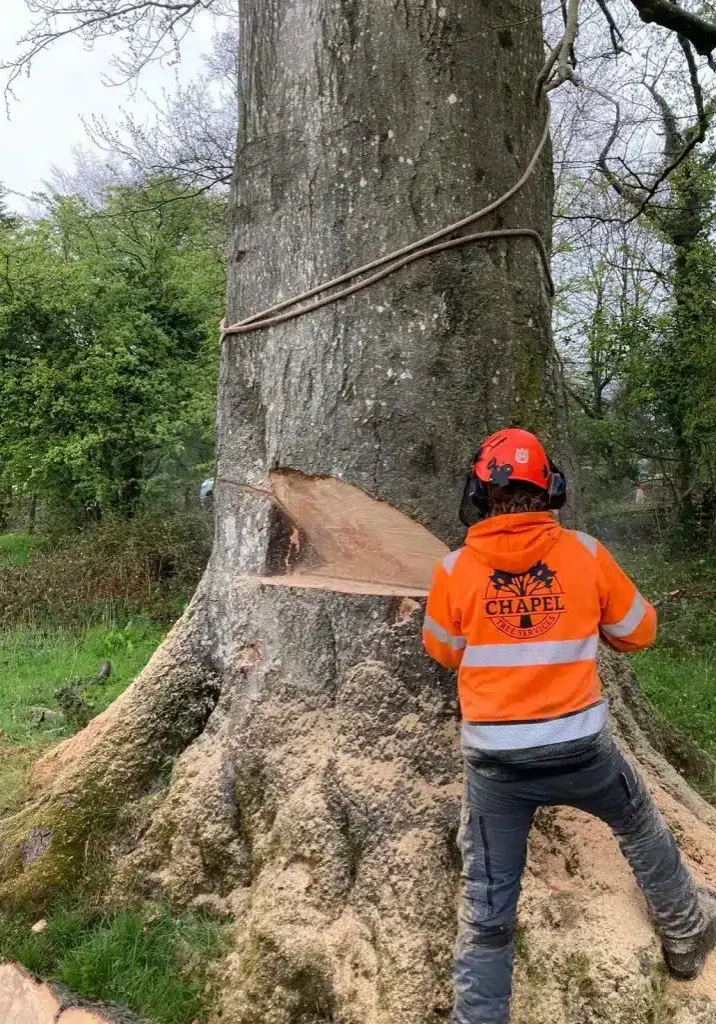 Exceptional Customer Care: Contact Us for a Free Quote
At Chapel Tree Services, your satisfaction is our top priority. Here's how we take care of you:
Initial Consultation: When you reach out to us, we'll promptly schedule a property visit to discuss your needs. During this visit, we'll assess tree age, health, and their relationship with structures, fences, and drainage systems. Safety considerations are paramount.
Expert Recommendations: Based on our assessment, we'll recommend necessary actions and provide a detailed written quotation, including work specifics, pricing (plus VAT), and our terms and conditions.
Easy Confirmation: If you're ready to proceed with our quote, simply inform us via phone or in writing. We'll then coordinate a convenient date for the work. You don't need to be present unless access requirements dictate otherwise.
Qualified Teams: Our fully qualified and experienced tree surgeons, many of whom have been with us for years, will usually arrive on-site at around 8:30 a.m. The crew leader will conduct a site-specific risk assessment and ensure the team is aware of all risks and safety measures. As a professional organisation, we maintain comprehensive £5m public and £10m employer liability insurance (certificates available on request).
Work Completion and Satisfaction Check: Once the agreed-upon work is done, and the site is immaculately cleared, we'll confirm your satisfaction. You'll then receive an invoice via email, payable by bank transfer within two weeks.
Addressing Concerns: Your peace of mind matters to us. If you have any concerns about the work, communicate them with the crew leader on-site or our office team. If an issue remains unresolved, reach out to Directors Matt and Jenny Long at info@chapeltreeservices.co.uk. They will promptly contact you to discuss and find a satisfactory resolution. Your trust and satisfaction are our driving force.
Contact our team today either by dialling 01989 565 647 or by using our convenient online contact form. We'll schedule a visit to your Ross on Wye, assess the task at hand, engage in a productive discussion about your requirements, and offer valuable advice and creative ideas on how we can best serve you. Following this, we'll provide you with a comprehensive written quotation for any necessary work. Your satisfaction is our priority, and we look forward to assisting you.